Hello all, and welcome to 2015! The end of 2014 was full of non-internety things that made blogging impossible, but I'm back! (You may read that as Schwarzenegger-esque, The Shining-esque or simply as a cheery greeting. You be the judge.)
January is a month where many Australians consider their Australian-ness in some fashion. Australia Day is on 26 January, but that date is viewed as problematic as it also marks the date where Europeans landed in Sydney Cove and proceeded to disposses the existing inhabitants.
A lot of immigrants take up Australian citizenship on that date, too, swearing an oath and receiving a gum tree sapling (and some Vegemite I was wrong) as gifts to welcome them to their new home. The Australian of the Year is usually announced then too. Let's not forget radio station JJJ announcing the JJJ Hottest 100 songs of the preceding year, which usually heralds a lesser but still vocal controversy about the diversity of acts (or lack thereof) represented in the voting.
Still, one way or another, many citizens of this wide, brown land spend at least a little time this month thinking about our history, our culture and what it means to be Australian.
Of course, it means many different things because 'Australian' is a broad label for a huge number of very different people who all happen to be citizens, by birth or by choice, of this giant island in the southern hemisphere. Nevertheless, certain ideas about ourselves as a nation tend to coalesce – though it has to be said that some of those ideas represent values that exist in many other cultures too.
Cultural labels that come to mind, though, are things like 'laid back' or 'the fair go'; 'mateship' and 'larrikinism'. Then we can have a whole other debate on what words like that even mean.
Taking another approach, though – I've had conversations from time to time about what films or TV shows I might give to someone who wanted to garner an idea of what it is to be Australian. (As an aside, the first feature film ever made was made in Australia – The Story of the Kelly Gang. Pretty Aussie, that.) My friend, Rod Sherwin, and I were discussing it once more over Christmas drinks and we decided to attempt to compile a list.
So, for what it's worth, here is a suggested list of depictions of Australia which might give you a hint, whether you are from beyond these shores or if you are a born or naturalised citizen and still trying to work out what the hell it's all about.
FILMS
The Castle immediately springs to mind. That feel-good film about the little guy versus bureaucracy; about people who love the lives they live, who celebrate suburbia and each other. A film about mateship and the fair go. It also features Eric Bana in a supporting role before he went off and got buff to play heroes and villains in Hollywood.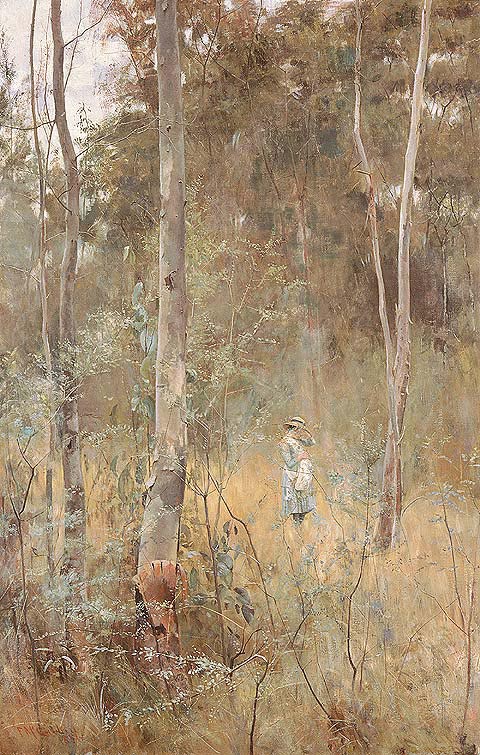 Picnic at Hanging Rock remains, after nearly 40 years, haunting and beautiful. It also echoes the European fear and distrust of the Australian outback which is evident from the earliest colonial paintings and epitomised by Frederick McCubbin's painting Lost. It's moody and disturbing, but much less terrifying than Wolf Creek, which does nothing to entice visitors to our shores.
The Adventures of Priscilla, Queen of the Desert – drag queens, road trips across the outback, a bus called Priscilla, and a cock in a frock on a rock. Australia's not all football jocks, surfers and Crocodile Dundee. Australia is also queer, funny, vulnerable and finds love in unexpected places.
Gallipoli told the story of the failed battle that helped Australia forge an image of itself less than twenty years after Federation and when white Australia still largely regarded itself as essentially British. For some, the blood of Australian and New Zealand troops shed on that Turkish beach "washed away the convict stain". However you see it, or the war in which it was one failed invasion attempt, it formed the basis of a modern mythology of what it is to be Australian.
Ten Canoes, directed by Rolf de Heer, is funny, moving, enlightening and beautifully shot. It's also entirely in an indigenous language, Yolgnu Matha, with an English narration supplied by David Gulpilil.
Undead is the zombie film for lovers of horror, Australian-style. Made on the cheap, it's also drily hilarous and contains one of my favourite movie lines ever. "In my day, children respected their parents. They didn't eat 'em." The mix of Australian humour with a trope more associated with American films is a treat.
Strictly Ballroom was Baz Luhrman's first big film hit and bears his trademark hyper-realistic style. It also, against a backdrop of ballroom dancing, looks a little at migrant experience, the value of blazing your own trail and the cost of abandoning your dreams. The dancing is also fantastic.
Crackerjack is another celebration of suburbia set around a bowls club, with that quirky humour that we so love.
Of course, there are heaps of other Australian films that showcase not only talent but different views of being Australian. Paperback Hero has Hugh Jackman as the sensitive outback guy who writes romance novels under the name of his best friend, laconic tomboy Ruby (Claudia Karvan) and touches on ideas of masculinity, if only briefly. There's Mad Max and The Cars that Ate Paris and the recent, brilliant The Babadook for Australian takes on SF and horror. Comedies like Malcolm, Cosi and Muriel's Wedding and musicals like The Sapphires and Bran Nue Day all have something to say about Australian people and culture.
TELEVISION
The Code, made in 2014, made Canberra – long disparaged as an ugly, soulless place – well, not beautiful. But intriguing, dangerous, and paranoid. Superbly written, directed and performed, this thriller draws together rural and urban communities and concerns, security, politics and provides a more modern view of Australia than we normally get on our small screen.
Janet King was also a brilliant and gripping legal drama/thriller, with a queer protagonist, terrific writing and motivations for crime that are complex and textured.
Kath and Kim is of course the quintessential Australian suburban comedy. It's often been said that everyone knows a Kath or a Kim, but no-one will admit to being a Kath or a Kim.
Frontline, a comedy about a 60-Minutes-style news program, is perennially relevant. When it first came out, it altered the way some magazine format 'news' shows presented stories, because it so accurately and brilliantly skewered their tricks and habits. It's probably time for a repeat, to keep the bastards on their toes.
We Can Be Heroes saw Chris Lilley play a wide variety of characters of different genders, ages and even ethnicities. It's a bit of a minefield, that, but Lilley walked that line well and brought sharp observation and at times heart wrenching poignancy to his portrayals of a group of people all nominated for Australian of the Year.
Outland gave us a break from the relentlessly 'realist' direction style of so many Australian shows (at least until Janet King and The Code showed up), its visual style inspired by British shows like Spaced and The Book Group. It's ostensibly about a queer SF fan club, but they're mostly out and proud about their sexuality. It's their nerdiness that's mainly in the closet. Modern, funny and clever. And yes, it was co-written by John Richards, who is family, but as I often say – just because I'm biased, it doesn't mean I'm wrong.
Please Like Me was another comedy that was often more of a drama, written by and starring Josh Thomas. Another take on modern Australia and full of young, diverse characters and unexpected moments of heartbreak.
Mr Squiggle perhaps, like Vegemite, defies description. Maybe it's something you just had to be born to. It's a kid's show where a little puppet man with a pencil for a nose comes to Earth in a talking rocket. He is given a series of random lines drawn on a white board that's propped up on a talking blackboard, and he uses his nose to turn the lines into drawings (often the wrong way up). I don't know what it says about being Australian, but for many generations it was an essential part of growing up (along with Dr Who, The Goodies and Monkey). Don't knock it. That's my childhood there, people!
Australian children's television has also always been imaginative and clever, and much more likely to use fantasy or science fiction in its storytelling than films and shows made for adults. I used to watch The Girl from Tomorrow on Egyptian TV when I lived in Cairo in the 90s and Heartbreak High managed to get in characters from migrant backgrounds. The Silver Brumby was based on a series of books about wild horses (brumbies) that I ate up with a spoon when I was a child.
So there we go. A sort of 'Australia 101 on Screen' if you want to start to get an idea about what Australians are like, in all their diversity.
Naturally I'll have missed stuff – so feel free to comment with your own recommendations!
[Image via 123RF.com]