Although the sign says The Waiters Restaurant, everyone knows this place as The Waiters Club. It's a very simple Italian restaurant, upstairs at 20 Meyers Place, Melbourne.
There's nothing flash about The Waiters Club – it opened in 1947 and by 2009, it didn't appear to have been refurbished since the 1970s, with its white walls, dark wooden tables, an arched window overlooking a burgundy canopy, and chalkboard menus. (It's not updated its look much since then either.)
Originally, it was the restaurant inhabited by Melbourne chefs and waiters once their own restaurants had closed up in the small hours. It served traditional Italian dishes and cheap alcohol, the latter in defiance of Melbourne's strict and limited licensing laws. Reputedly, visitors had to give a password to enter the door at the top of the narrow staircase, like a first floor speakeasy for pasta.
The sly grog days are long gone, but the aura of a seedy past clings to the restaurant, with the owners' encouragement, because of an incident in 1978 which began as a daring raid and ended in hilarious farce.
The Waiters Club Siege took place on 31 March, 1978.
18-year-old Amos Atkinson, a hot-head who had fallen in with notorious Melbourne gangster Chopper Read, had a run in with the police. After pursuit, Atkinson and his friend Robert Williams pelted up the stairs and ended up taking the 30-odd diners and staff hostage. Atkinson then came up with the bright idea of threatening to shoot hostages unless Chopper Read was released from prison.
Read had recently held a gun to a judge's head, and so the authorities were naturally reluctant to comply. The police did nothing, leaving Atkinson hanging.
Atkinson's next bright demand was to send a hostage out with the message that Atkinson wanted to speak to his mum.
Mrs Atkinson, bless her, showed up in her dressing gown and a hundred tons of attitude. She marched up the stairs, hit her son on the head with her handbag, told him to give himself up, and he did.
Far from trying to hush it up, the Waiters Club owner, Dennis Sabbadini, proudly has the newspaper clippings framed and hung on the wall for people to read and marvel over. Not only Dennis but all of Melbourne has been dining out on that story for forty years.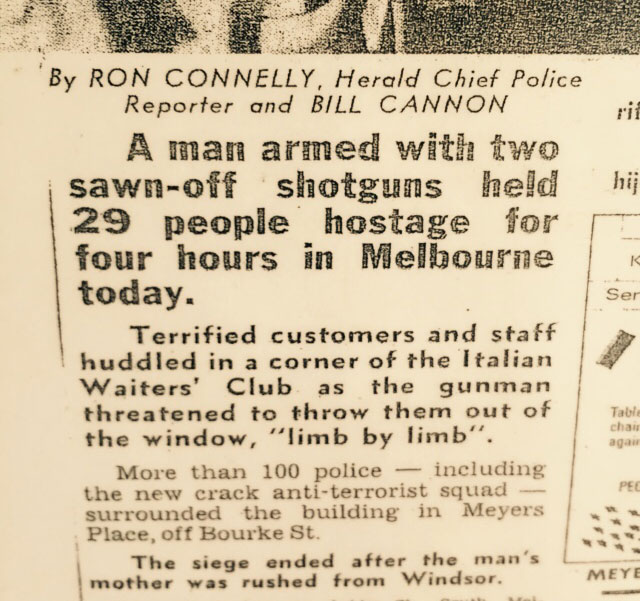 You can read more details of the most bogan siege in the history of suburban small time crooks at:
I'd intended for Frank and Milo to go there for dinner in Number One Fan but they never made it. Perhaps they'll saunter along in Kiss and Cry.